Extreme Lash Serum
Sale price

AED 305.00

Regular price
What is it?

Introducing GLOSSIC Extreme Lash Serum, the ultimate solution for achieving fuller, longer, and curlier lashes. Formulated with advanced peptides, this serum works wonders in enhancing the volume, thickness, length, and curl of your lashes. Experience visible improvements in just 2 weeks, as it revitalizes and transforms their appearance.

This exceptional serum boasts an impressive array of qualities. It is 100% natural, vegan, cruelty-free, organic, and paraben-free, ensuring a clean and ethical choice. Free from prostaglandin, silicone, synthetic fragrances, synthetic dyes, mineral oils, phenoxyethanols, and PEG, it prioritizes your well-being. Infused with nourishing vitamins and powerful peptides, it provides the ultimate care for your lashes.

GLOSSIC Extreme Lash Serum is safe to use with eyelash extensions, as it is oil-free. Its easy application takes just seconds, makingit a hassle-free addition to your beauty routine. Say goodbye to sparse and lackluster lashes, and say hello to a vibrant and captivating look with GLOSSIC Extreme Eyelash Serum.
How to Use

• Apply a thin layer of the product on the root line of your lashes.
• Almost like applying an eyeliner.
• Wait for the product to dry before using other eye cosmetics.
Ingredients

Aqua, Hyaluronic Acid, Biotinoyl Tripeptide-1, Myristoyl Pentapeptide-17, Biotin, Panax Ginseng Extract, Panthenol, PentyleneGlycol, Swertia Japonica Extract, Acorus Calamus Root Extract, Cucurbita Pepo Seed Extract, Oligopeptide-10, SerenoaSerrulata Fruit Extract, Tocopherol.
View full details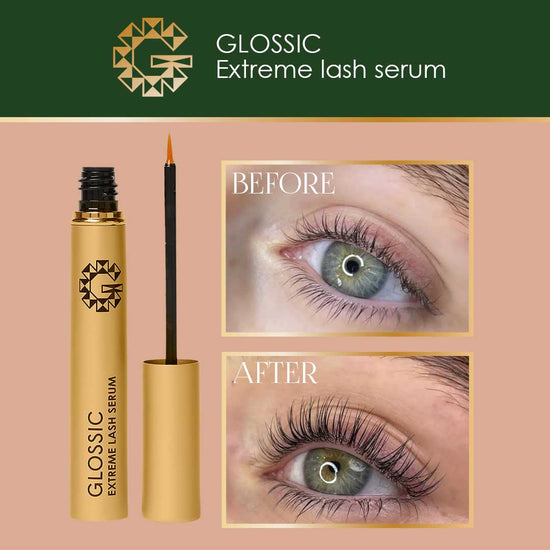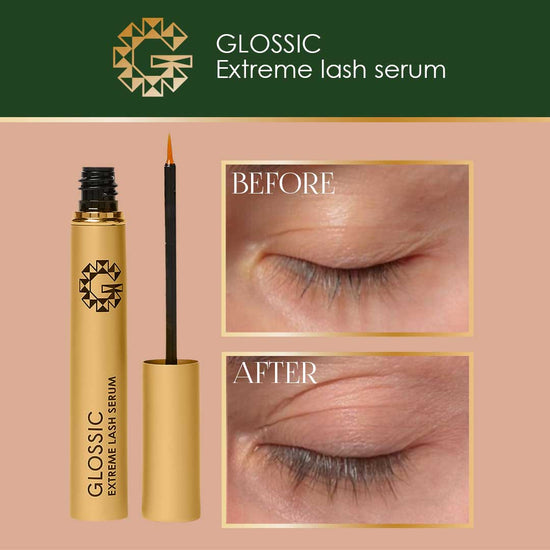 Featured Items
COMPLETE YOUR LOOK